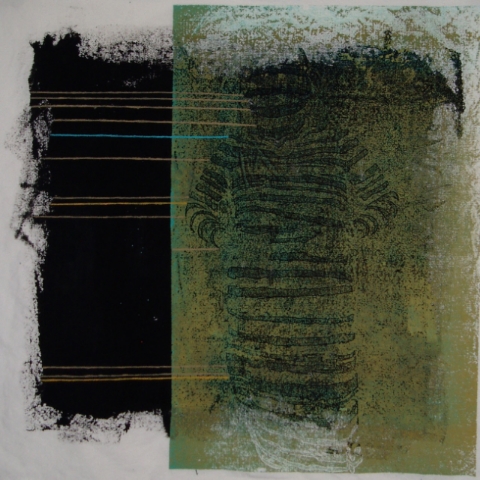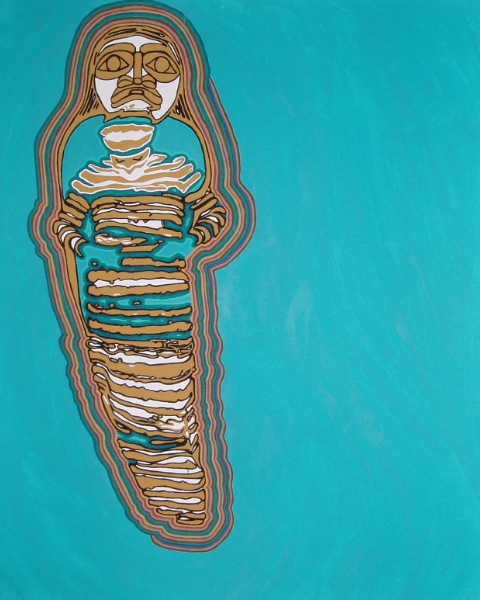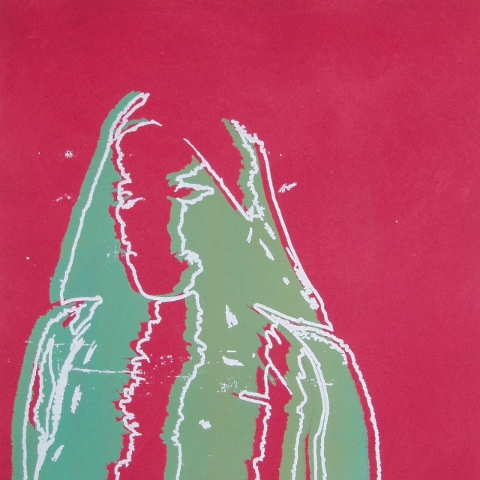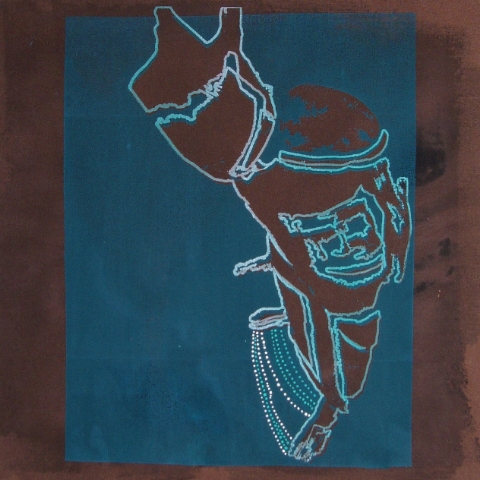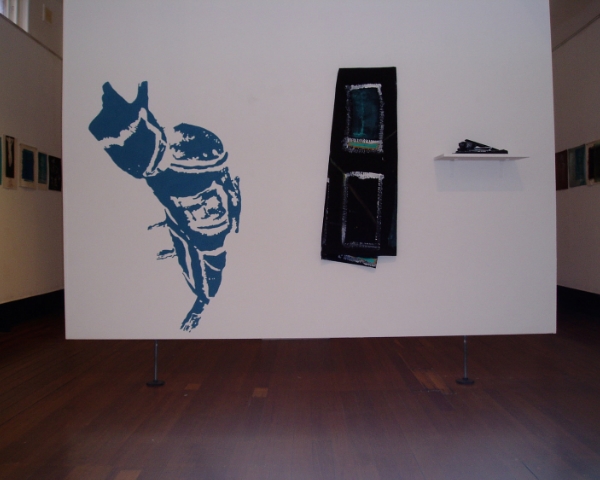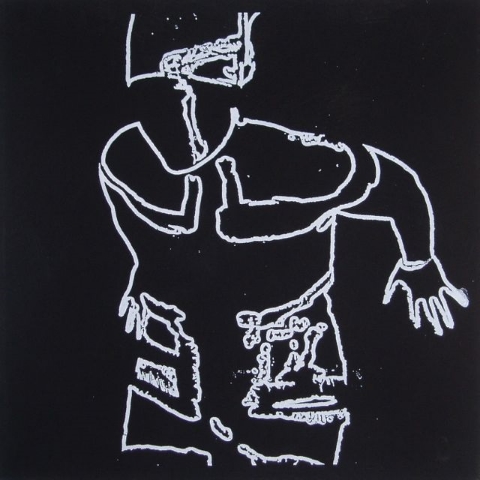 pieces of sheet 2009
1 of 120 artist proofs, screen printed acrylic paint on Hahnemühle paper and recycled cotton napkin, approximately 60cm x 45cm each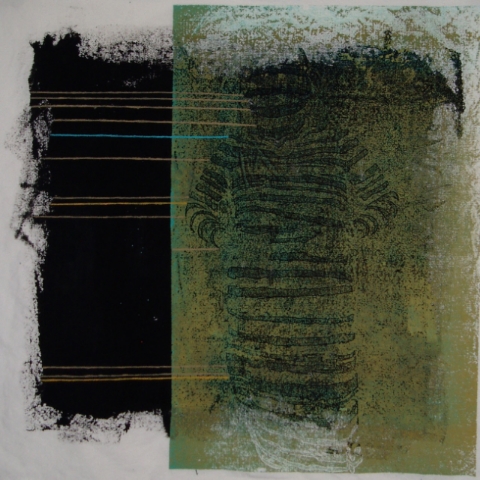 When I grow up
I want to be a forester
run through the moss on high heels
that's what I'll do
throwing out a boomerang
waiting for it to come back to me
When I grow up, Fever Ray, Konichiwa Records, 2009
The lyrics float across the lounge room, unawares of their serendipity.
As she stands and wraps her own body in swathes of material, the hypnotic baseline serves as an anchor amid the unsual process; a living mummification, a preservation process of sorts. Swaddling herself in colour and line, she wonders what it is exactly that is being preserved? Tradition? Culture? A system of belief? Simply a moment in time and space?
The lines marked across her "dress" mirror the music's rhythms, each echoing the other in their patterns. She inhabits an unfamiliar role, a position of simultaneity where distinctions between creator and producer are blurred. As the cool black paint is traced along the length of her arms, she watches on, both participant and witness. The quiet sting of the white across her forehead builds, a corporeal reminder of the ritual to which she has surrended.
The lyrics shaping the air, shape her act; a conflation of ideas, rituals and cultural motifs jostling for space in the same room. The three dollar Spotlight face paint, sheets of cloth vaguely reminiscent of a Kngwarreye painting, the Tim Johnson catalogue opened on page 52, stacked copies of Cabinet, a makeshift headdress waiting to be crowned, serve as port keys within this displaced rite.
This ritualistic paraphernalia, laying prone about her feet, serve as testament to her role; she embodies the 'semionaut'. A collector of ideas, an archivist of techniques, and a curator of concepts, she traverses culture rootlessly, picking and choosing, wandering through iconography past and present, building her own native tongue. She becomes the pop-anthropolgist. A living museum.
Belinda Howden
exhibition text © Belinda Howden
original pieces of sheet #2 2009
Installation: hand painted acrylic wall work, hand painted recycled bed sheet/dress and stack of rags, approx. 200cm x 300cm
Installation photographs from the exhibition kól-la-mul-li-ko totémique (conceal totem) at Newcastle Art Space, 2009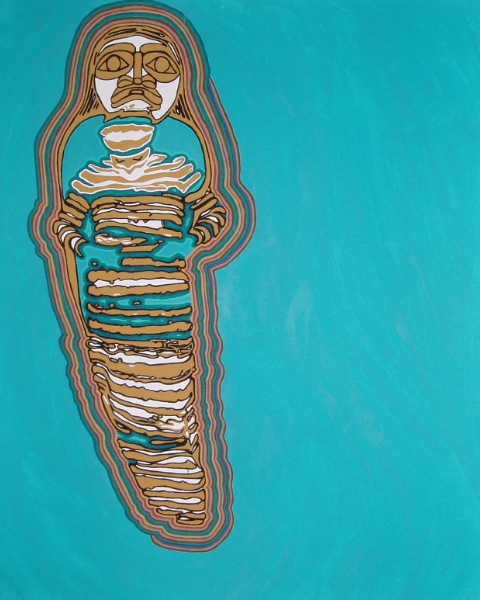 untitled (wall work/pieces of sheet) 2009
Installation: hand painted acrylic wall work, approx. 250cm x 200cm
Installation photographs from the exhibition kól-la-mul-li-ko totémique (conceal totem) at Newcastle Art Space, 2009
original pieces of sheet #1 2009
Installation: hand painted acrylic wall work, hand painted recycled bed sheet/dress and stack of rags, approx. 200cm x 300cm
Installation photographs from the exhibition kól-la-mul-li-ko totémique (conceal totem) at Newcastle Art Space, 2009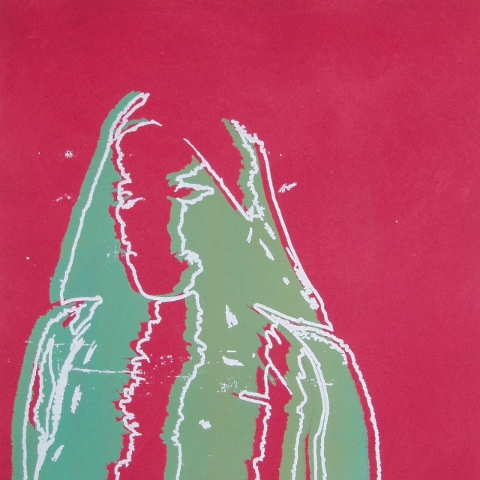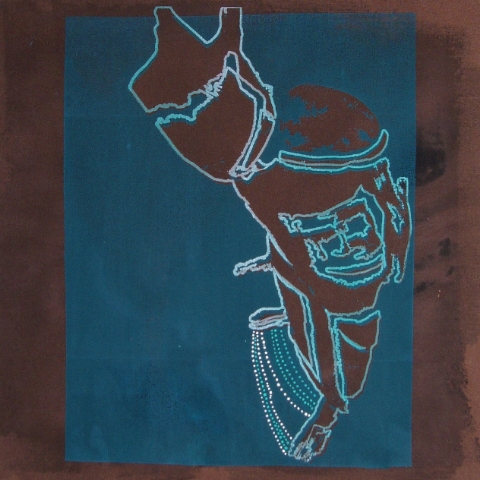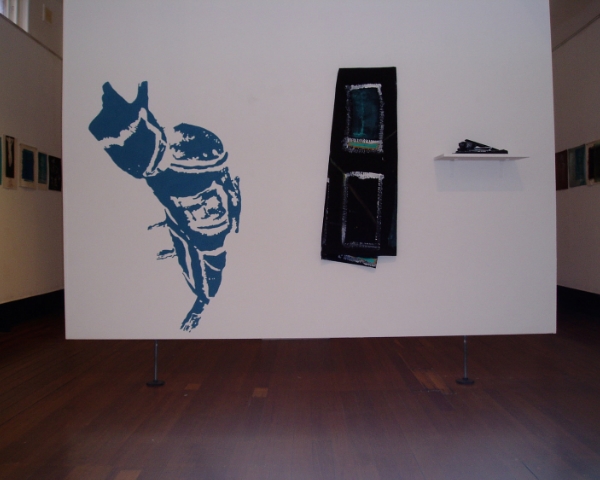 original pieces of sheet #3 2009
Installation: hand painted acrylic wall work, hand painted recycled bed sheet/dress and stack of rags, approx. 200cm x 300cm
Installation photographs from the exhibition kól-la-mul-li-ko totémique (conceal totem) at Newcastle Art Space, 2009